Nomadix Products and Solutions

Built for Businesses of All Sizes

The visitor-based network solution that hotels have relied on for over 20 years now includes casting, pbx, and guest app solutions, touchless and voice-activated technology and more.
Nomadix also offers a comprehensive suite of managed Wi-Fi solutions for multi-dwelling unit (MDU) space.
Nomadix Gateways
Nomadix gateways are the industry standard in hospitality with tens of thousands of properties supporting millions of rooms worldwide. Powered by patented technology, the Nomadix family of internet access gateways has earned a global reputation for unparalleled reliability and ease of management.

Scalable
Our range of products offer the scalability to accommodate all sizes of networks, from small bed and breakfasts to resorts to convention centers and the flexibility to meet guest and customer needs.

Manageable
Nomadix take their global reputation for unparalleled reliability and ease of management seriously by pairing our dependable, robust products with responsive and dedicated sales support.

Reliable
Reliable connectivity stars with Nomadix. Facilitating more than 5 million connections daily, Nomadix is the leading provider of intelligent network devices that make make Nomadix public internet access easy.

Affordable
Nomadix's robust product offerings provide an optimal internet experience for your customers at a tremendous value.
Nomadix Hospitality Solutions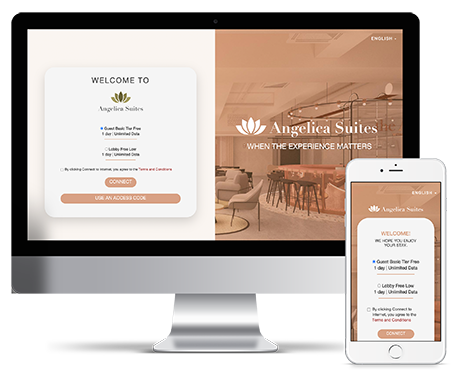 Guest Authentication
Flexible, streamlined guest authentication lets guests easily connect to the hotel Wi-Fi via a variety of authentication methods. Offerings and access can be customized for loyalty or VIP guests.

Bandwidth Management
Effective bandwidth management lets you get the most out of your bandwidth investment. Prioritize access for VIP guests. Distribute unused bandwidth to improve guest satisfaction.

Network Management & Reporting
Robust network management and monitoring enables you to manage, monitor and report on the performance of your hotel network and track network inventory.

Conference Management
Custom conference management helps ensure that high-paying conference attendees have a good network experience and lets conference organizers reach attendees with custom content.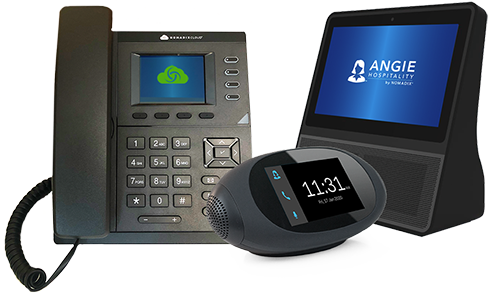 Streamlined Guest Communication
Safely streamline guest communication and requests via contactless solutions, mobile app, voice-activated devices and cloud telephony.

In-Room Entertainment
In-room Entertainment gives guests access to the content they want – from their own providers and devices.

Touchless Technology
Eliminate up to 50 hotel touchpoints with touchless and convenient solutions including mobile app, digitalized communications, voice-activated devices, mobile key, cloud telephony and more.
Create a cleaner, safer guest experience where guests can control the amenities in their room via mobile app or voice, including commonly touched surfaces such as lights, drapes, thermostats, TVs, and phones.

Management & Reporting
MVNOs and Communication Providers have access to a management portal to provision Wi-Fi at each property. The dashboard offers audit logs, activity monitoring and robust controls.

Property-wide Wi-Fi
Single SSID for reduced network complexity and ease-of-use. Tenants can access Wi-Fi across the property.

Bandwidth Management
Nomadix Managed Wi-Fi ensures each tenant gets the bandwidth they've paid for without slowing down their neighbors' connections.

Tenant Provisioning & Authentication
Property managers have access to a simple and intuitive portal that allows them to manage Internet access for each tenant, offer different service plans and enable access controls for each property. As tenants turn over, access can be quickly revoked, and new tenants in each unit can be easily set up.

Tenants connect to a secure network that keeps their data separate from their neighbors' and ensures the purchased bandwidth is available.

Tenants have access to a portal to choose their passwords and other network settings. Additionally, if they prefer to not share their credentials with others who want to temporarily connect to their personal network.

Connecting to the network and on-boarding devices is simple and doesn't require MAC addresses to be known.
Visitors have an option to use a QR code to gain access.