Nomadix ACCESS Gateways
The AG 2500, Nomadix's mid-range bandwidth management gateway, is ideal for value-driven, visitor-based network venues. With four configurable WAN/LAN copper ports and support for up to 500 devices, the AG 2500 is the perfect solution for small- to medium-sized venues, including hotels with up to 150 rooms that want to offer state-of-the-art internet access to their guests.
---
The AG 5900 is a next generation, high-performance Internet access gateway that enables the creation of a public Internet access network. Designed with scalability in mind to accommodate medium to large sized venues — from hotels to airports to stadiums and convention centers — the AG 5900 features the flexibility to support from 500 up to 8,000 simultaneous devices, and up to tens of thousands of devices when using our clustering feature. With a throughput of 1.5 gigabits per second, the AG 5900 can meet growing bandwidth demands while keeping Internet traffic flowing.
Overview
Nomadix's next-generation, high-performance Internet access gateways (AGs) expand wired or Wi-Fi bandwidth reach to create public Internet access networks, which establishes an added revenue source for your business and keeps your customers coming back. With Nomadix, establishing a guest network has never been faster or easier.
Deploy with confidence
Renowned reliability maximizes uptime, keeps your network running optimally and ensures guest satisfaction.
Flexible pricing models, such as self-provisioning tiered options, help monetize your investment and keep support costs down.
Ongoing innovation supports regular software updates to help future-proof your network.
Fair allocation of bandwidth means every guest has equal access.
Secure login prevents unauthorized use for added security.
Session limiting reduces the spread of malware or attacks generated from your network
Features
Key Features on all Gateways:
Ease of Use
Nomadix's patented plug-and-play technology allows end users to access the Internet without making changes to their systems. "Set and forget" functionality allows the gateway to be configured once during setup without many administrative requirements from then on. Once activated, plug and play can limit the number of support requirements for end users, as well.
Authentication
Nomadix supports multiple authentication types, including self-provisioning with credit card, or direct property management folio integration. Along with support for RADIUS, 802.1x and MAC authentication, Nomadix flexibility allows for any and all of the above authentication methods to be configured and utilized at the same time.
Bandwidth Throttling
Per device or per group, bandwidth capping allows for control on a granular level for the operator to sell in tiered levels to groups.
Speed
Using flash file systems and a real-time operating system reduces the CPU cycles required to process the packets, allowing for nearline rate access to bandwidth through the Nomadix gateway.
Reliability
Nomadix has invested more than 15 years of operating-system development to maintain full control of the code without relying on open-source patches. Nomadix also has a vigorously trained quality control team dedicated to providing a robust device to our customers.
Captive Portal
The flexibility to create and maintain a dedicated captive portal that is completely site specific with only some simple XML commands is an example of how Nomadix empowers our customers. The Nomadix gateway supports either the simple built-in portal or the creation of a site-specific portal.
Redirection
Pre- and post-authentication redirection of Web browser requests allows the operator to manage what the customer sees, such as advertising messaging or a branded webpage to facilitate added awareness and revenue.
New Gateway Features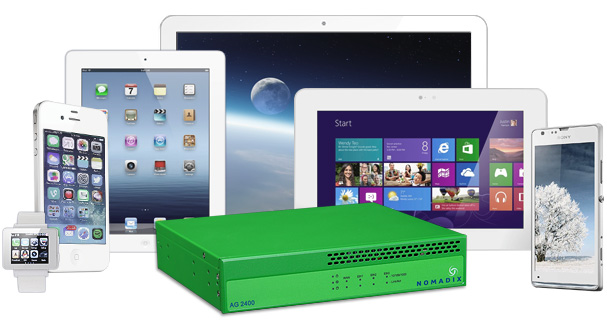 Nomadix is continually enhancing its Internet Access Gateways with new software for added flexibility and management. Our newest features are listed below:
Authentication
Facebook Authentication
Authenticate users with their Facebook credentials for free with a time and bandwidth limit that would allow you to gather information from their Facebook account based on the Application created and used for the authentication.
---
Bandwidth
Class-based Queuing
The provisioning system provides priority-based tiered bandwidth management capabilities that allow IT administrators to allocate bandwidth by priority, location or class, such as guest loyalty. This enables hotels and other entities to meet contractual bandwidth obligations with their conference attendees, while still allowing bandwidth to migrate as needed from higher classes to lower classes then back to higher classes as priority traffic increases. Simply put: guests seeking free Internet access are not impacted by high-priority conferences.
NSE Clustering Phase 1.0
In the recent past, it was necessary to segment the network to serve subscribers that exceed the user count on a Nomadix gateway. Now with clustering all subscribers can be on the same segment distributed across multiple gateways. The task of serving a large number of subscribers can be distributed to as many as 250 gateways thus providing a design capacity of 1 million subscribers being served. Note this first phase offering does not support a Gateway failover feature at this time.
Weighted Fair Queueing
When the Network Pipe is Saturated users will still get access to bandwidth proportional to their Bandwidth caps. This guarantees that even when there is lack of bandwidth those users that should get more will get more. Ex. If a Person(A) Paid for 4mb cap and another Person(B) is using a free plan of 2mb but there is only 3mb available then Person(A) would still get access to 2mb and Person(B) would only have access to 1mb.
---
DHCP
DHCP leases increased to 10,000 addresses and number of scopes increased to 200
BYOD demand continues at a furious pace. This allows for a larger limit on the DHCP configuration so there should be no reason to run out of addresses for a particular site.
DHCP updates
Now fully configurable without the requirement of a reboot and can now be enabled or disabled for specific VLANs.
Subscriber DHCP Phase II Improvements
The new ability to enable and disable DHCP pools without rebooting. Additionally there is an updated summary table of existing DHCP pools. The DHCP lease page is designed to display all current DHCP leases on the NSE. One can easily see the IP address, MAC address, lease status, and lease time remaining. Lease aggregate total is now 25,000.
---
Management
Changes to UI pages
AAA has a new Tabbed look and configuration with expandable sub-menus
Subscriber DHCP pages have been re-vamped
"List by …" pages have been combined into 'List Profiles'
Gratuitous Address Resolution Protocol (ARP) for Failover
Support and allows networks to continue processing traffic in the event of a system failover.
Group account Expiration Time
Automatically expire a Group account at a specific time and Date. Removes the manual requirement to delete a Group account on the Nomadix.
HTTP redirection
Now includes the user IP parameter to ease development of customized guest portals.
---
PMS
Marriott PMS not posting for Cash only and Signature Charge
Now with ease one can better accommodate the cash paying internet user, without creating a problem that is escalated to the front desk by allowing a Cash only guest to post a Charge for Internet usage.
Metaphone 3 Support
This feature will correct the miss pronunciation and high-speed well-intentioned miss keying of a person's last name during the registration/authentication process for the internet. By using a Phonetic match to the Name instead of character by character it allows a better chance of correctly identifying a guest name regardless of the input method in the PMS.
Micros Opera (FIAS) over TCP/IP
This eliminates the need for a serial cable to connect the Nomadix to a PMS server. Now there is no need to keep the Nomadix Gateway in close proximity to the PMS server, allowing for a more flexible installation of the hardware at the site.
PMS Redirector over TCP/IP
Support for PMS Redirector to a PMS server through TCP/IP no longer restricted to a Serial connection to the Server.
Support for No Post (NP) Flag on Micros Opera
Now users with the NP flag will not be able to obtain access to the internet using a Paid plan.
---
Port/VLAN
Subscriber Intra Port Communications
This will enable a shared environment to exist on a configured VLAN to allow guest room personal networks or support for devices such as a printer or projector used in conference room presentations. It provides true local flexibility to share a dedicated in room VLAN. This feature adds to the Port Location table to identify if Intra-Port Communication has been enabled for a particular VLAN.
Zone Migration will now trigger a MAC authentication request
Subscribers that revert to pending due to a Zone Migration will now trigger the MAC Authentication. This enhances the Zone Migration feature to allow MAC auth users to freely move from one Zone to another without requiring user intervention to re-login.
---
Radius
Automatic re-authentication limited to Zone
Radius Automatic Re-authentication can now be limited to the Original Zone. Can be configured to allow or disallow automatically logging in the user as they move through the different Zones at the Site.
Total Bytes VSA added
Now support for Total bytes is available through a Radius Vendor Specific Attribute and not just the Upstream or Downstream bytes.
---
WAN Networking
Destination-based WAN selection
Allows routing traffic through a specific ISP that may be favorable and/or required for certain communications such as to lower costs, provide higher bandwidth or meet regional requirements.
Multi-WAN Failover
The Nomadix Gateway can be set to Failover mode only. In this configuration, a backup network connection can be available, but only utilized if the primary connection goes down. This allows for greater reliability of the network and keeps the users online when a network outage occurs. More money can be saved by using a lower cost circuit for the backup line.
Multi-WAN Load Balancing
Now you can configure multiple WAN interfaces and benefit from Subscriber Load Balancing between them, internal on the Nomadix device. This allows customers to aggregate their ISP connections with the Nomadix gateway, eliminating the need to purchase a second device to make those connections. Besides saving money on the capital expense of buying a separate server and on maintaining a separate support plan, network reliability is increased by removing an additional point of failure.
Nomadix Search Engine (NSE)
The NSE addresses the key issues of customer acquisition, provisioning, security and revenue generation faced by providers and venue owners when deploying WiFi public access. The NSE also knocks down the barriers encountered by end users accessing these networks by providing a secure, hassle-free, Zero Configuration experience when using the service.
Nomadix offers a full range of Access Gateways running the NSE software. All of the Nomadix Access Gateways come with the NSE Core software package. Optional NSE Modules and User Count upgrades are also available.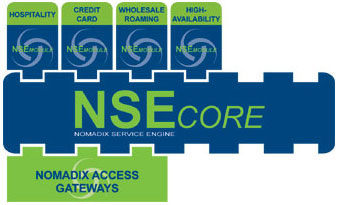 Competitive Advantage
Most competitive offerings on the market today are either server-based or rely on a hard drive to provide their functionality. A major competitive advantage for Nomadix lies in the fact that they developed their software solution within a real-time operating system — VxWorks making it an efficient and reliable packet processor. Also, Access Gateways are dedicated network appliances that provide superior scalability and reliability over competitive solutions that are server based or run on Operating Systems susceptible to virus attacks. These patented systems provide unparalleled means to monetize public access and Nomadix solutions have proven high reliability and low failure rates. Reliability can be increased even more with fail-over capabilities.
Providing a seamless experience for the end user while enabling the backend billing and authentication models needed by the provider, the NSE delivers key functionality in the following areas:
Customer Acquisition
Nomadix' patented Dynamic Address TranslationTM (DAT) technology provides transparent broadband network connectivity as users travel between different locations—without requiring any changes to their computer's settings or special client-side software—ensuring that everyone gets easy access to the network. A Nomadix-enabled network allows providers to acquire new customers in a cost effective method.
Service Provisioning
Once connected to the public access network, the NSE's patented Home Page Redirection feature intercepts the user's browser settings and directs them to a web site to securely sign up for service or log in if they have a pre-existing account. Nomadix offers redirection opportunities both pre and post authentication as well as at session termination for maximum branding flexibility for both the provider and the HotSpot owner.
Multimode Authentication and Access Control
In addition to supporting the secure browser-based Universal Access Method, the NSE simultaneously supports Port-based Authentication using IEEE 802.1x and proprietary authentication mechanisms used by Smart Clients from companies such as Boingo Wireless and iPass. Nomadix products enable multiple authentication models providing maximum flexibility to the end user and to the provider by supporting any type of client entering their network and any type of business relationship on the back end. Nomadix' products can block access to the Internet or allow access to a pre determined "Walled Garden" area of the web until the user has been authenticated.
Billing Plan Enablement
The NSE supports a wide variety of billing models enabling the deployment of profitable public access networks. Our solutions allow providers or venue owners to create billing plans using credit cards, scratch cards or that enable monthly subscriptions—then bill by a host of different parameters including time, volume, or bandwidth. Users can also be billed directly to their room bill through a Property Management Interface (PMS) in a hotel setting.
Advanced Security
VPN tunneling (PPTP, IPSec) remains the recommended method for transmitting data across a wireless network for mobile workers wishing to connect back to their corporate resources. The NSE features Nomadix' patented iNATTM functionality that creates an intelligent mapping of IP Addresses and their associated VPN tunnels allowing multiple tunnels to be established to the same VPN server creating a seamless connection for all the users at the public access location. The NSE also provides tracking logs to support Lawful Intercept initiatives.
Policy-based Traffic Shaping
An NSE-enabled network allows bandwidth usage to be limited on a per device (MAC Address/User) basis. This ensures equitable distribution of bandwidth in heavily congested public access networks. The bandwidth for each device can be defined asymmetrically for both upstream and downstream data transmissions and billing plans can be associated with bandwidth levels. Users can also dynamically switch between bandwidth plans giving the network operator opportunity to sell higher bandwidth at a premium.
Global Roaming
Public access locations and networks powered by the NSE enable roaming users to access wireless broadband networks globally while maintaining a single billing account worldwide. The NSE complies with the Wireless ISP Roaming (WISPr) Best Common Practices Document by supporting both the UAM method and the required RADIUS attributes to allow roaming settlement to occur between providers.
The NSE allows the "network" to make an intelligent decision on how a user is authenticated and billed for the access by directing them to the entity they have a pre-existing relationship with. This is done through advanced NAI routing capabilities available as an Optional Module. This allows multiple providers to service one location, enabling the development of the wholesale public access model.
Management
A key issue in the cost-effective mass-deployment of Wi-Fi HotSpot networks is an automated process to configure edge devices during initial installation as well as to centrally manage critical configuration parameters from the Network Operations Center. Such an automated process can lower site installation costs by removing the need to employ highly-trained personnel to perform the setup of the equipment.
The NSE provides a unique RADIUS-driven Auto-Configuration functionality that utilizes the existing infrastructure of a provider to deliver an effortless and rapid methodology to configure devices for fast network roll-out. Once configured, this methodology can also be effectively used to centrally manage configuration profiles for all NSE devices in the public access network.
Application Interface
The NSE provides a flexible XML interface which allows a partner to develop third party applications, which build upon the base of the Nomadix gateway technology in order to provide even greater value to the end customer. Through this bi-directional interface a number of companies have developed useful and highly targeted value-added applications in a number of industry verticals.
Platforms
Nomadix delivers its NSE on a complete family of stand alone, turnkey Access Gateways through a two tier channel allowing providers to deliver the same service offering across a wide variety of venue sizes and types. Nomadix sells the AG 5600 for deployment in large public access locations such as airports, convention centers and large hotels. The AG 5600 Metro Gateway is optimized for deployment in Metropolitan HotZones and larger venues such as Fairgrounds. The AG 3100 can be used when deploying public Internet access service in mid-sized locations, while the AG 2300 provides full features for small venues, including corporate visitor based networks.
End of Sale/End of Life Products
| | |
| --- | --- |
| AG 5600 Access Gateway | 12/31/2016 |
| AG 2300 Access Gateway | 12/31/2014 |
| AG 3100 Access Gateway | 12/31/2013 |
| AG 5500 Access Gateway | 12/31/2013 |
*Premium support coverage remains available through end life date